07 Aug2008
After morning of meetings with our lawyer in Tagbilaran, I asked him where we could eat a good lunch and he immediately said we should go to the Prawn Farm. My initial reaction was "wow, cool, I want to eat just above the fishponds"… and off we went. And then I realized that the restaurant "Prawn Farm" was located on the ground floor of the Island City Mall, the largest airconditioned structure in the city… But any apprehensions about a mall lunch were laid to rest when the dishes started arriving at the table…
Owned by a prominent local family that does indeed have huge prawn farms on the island, not to mention owns the very mall we were in, this snazzy seafood restaurant featured a lot of their own produce, presumably freshly harvested at their own fishponds. The seafood in the tanks or laid out on crushed ice near the entrance of restaurant certainly whet our appetites. We ordered a sinigang na sugpo that was nicely cooked, with large succulent prawns and abundant vegetables in a broth with just the right amount of sourness (though the tamarind broth was from a packet, I think). We also ordered a kinilaw na tanguigue and this was very good, fresh cubes of tanguigue in a coconut milk and vinegar marinade with freshly sliced ginger, chillies, etc. A very clean, fresh and creamy kinilaw. The portion was a bit small so we ordered a second plate of kinilaw.
A sizzling plate of gambas was also well received by everyone at our table. It had some tomato sauce which I am not fond off in gambas, but this was still a nicely done version of the popular dish. And the juicy shrimp were properly cooked (not overcooked) and arrived in a serious sizzle. Yum.
We also ordered a large platter of assorted grilled seafood and some pork barbecue and this was a good choice for a table of 5 hungry diners. Scallops, fish, prawns, crab, etc. with a butter sauce. Great value this dish at just over PHP500 or $12 for everything you see on the large square platter.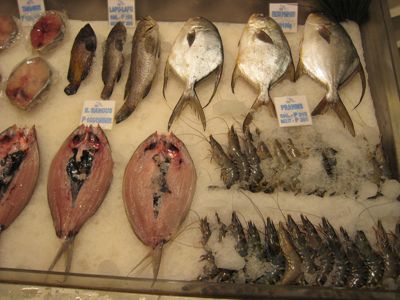 Here, a view of the fresh uncooked seafood on offer. The only hitch during our meal? An ordered a steamed lapu-lapu that didn't arrive and after asking them about it, they advised that the fish was not fresh and they would have to cook another one and that would take another 30+ minutes. We cancelled that order instead of waiting… Overall, the meal was very good value for money and I would definitely eat there again.