02 Jun2014
"Place of Miracles" is the rough translation for "Singita"… And that is exactly what it felt like. You have to understand that this is all about whole the experience of the stay, not just the amenities of our fabulous hotel/camp. In the days ahead, I will write post after post after post that should hopefully convey a fraction of the awe, amazement and delight that we experienced within a 72 hour stay at Singita. I could go on and on about the details but I now just want to set the stage for the posts to come. When we decided to go on safari for our joint 100th birthday, Mrs. MM and I agreed to go in whole hog. Reach for the best and hope that in a few short days we would be fortunate enough to experience what we hoped to get out of a safari trip. Others go to several camps for a couple of nights each, we decided to go for one of the best camps and leave the rest to fate. And all indications were, Singita was the place of miracles AND dreams. And so it was…
After a brief five minute or so drive in our Land Rover from the airport, we arrived at the hotel, Singita Ebony. Singita Boulders, a few minutes away, was closed for a month of renovations. There were just 12 suites on the property, I believe 10 one-bedroom suites and 2 two-bedroom suites. The photo up top and the second photo are the lobby of the hotel in daytime and nighttime. The central lobby or living room was the place to gather for tea, drinks, meet your guides for the morning or evening drives, head to the small cozy library, bar, wine cellar, dining room and outdoor deck for breakfast or lunch.
We had several wonderful meals on this outdoor deck, and I will do separate posts on the food for anyone interested in that part of the experience.
From the main lodge, a stone pathway led to our villa. During the day, we were allowed to walk by ourselves, but at dawn, dusk and in the evening, we had a personal porter to accompany us lest any wildlife was in our way. I had joked with our daughter on the plane that friends of mine from decades ago had a story of a guest mauled at a camp like this one between the dining area and her room and our daughter thought I was pulling her leg. She just gave me amusing dagger looks when in the course of the next 72 hours, we ran across a massive nyala (antelope) at arm's length, a venomous snake slithering in the bushes beside her feet, a couple of docile deer, several monkeys, one of them that grabbed her leg, and tales of an elephant that broke a tree outside our villa and a female leopard that walked through the grounds and under the dining deck just minutes after we had lunch. I kid you NOT. :)
Turns out we were assigned to Villa 1, the furthest from the main lodge, or roughly 200 meters away, so the walk back and forth took on an increasing sense of the unknown as we ran across all kinds of things. Because of the isolated location, I also think we had one of the best villas around (I suspect all of them were brilliant)… A thatched or grass roofed villa was totally unassuming from the outside…
…but wait till you get in. A massive hardwood door swings in to reveal a large foyer…
…a personalized note and a bowl of fruit on the mantle of our own stone fireplace.
A cozy living room with couches and armchairs upholstered in warm toned fabrics and strewn with pillows, local wraps, handicrafts, books, lamps, hides, horns and artwork.
A full view of the fireplace from the living room couch towards the foyer and the entrance to the master bedroom.
A stunning high four poster bed in the master bedroom swathed in mosquito netting (yes, we had to take malaria pills for this trip but I don't think I got bitten by a single mosquito for the duration of the stay)…
Woven rugs (a half dozen or so throughout the villa) and a leather ottoman and chairs to throw your bags and junk on. Large panoramic windows looking out on the river banks were animals came to drink (and poop on the sand)…
The bed at night, with heated blankets if desired (dual control in case only one of you is cold) and lamps inside the mosquito netting.
Twin vanities in the bathroom (why share a sink if you don't have to)…
…a beautiful bathtub with a phenomenal supply of all the bath salts, bubbles or soap you would ever need…
…a toilet and bidet and another sink in a separate room…
…and my favorite, a corner glassed-in shower for the inner exhibitionist in you. The elephants and leopards across the way would have had a pretty good view of MM in the buff if that was their thing. We never drew down the blinds and it was a wonderful experience to see everything outdoors while you showered. At night, you just hoped you looked better than you really did with all the soft yellow lighting and strategically angled shadows… hahaha.
Our daughter's bedroom at night…
…and her bathroom (literally bathroom, as there was no shower). She was creeped out by the thought of showering in our glassed in shower.
In case our shower wasn't visible enough, you could also shower outdoors, which I did once after a dip in the pool, but with monkeys on the wall watching your every move and possibly positioning to grab your snazzy shampoo bottle, let alone any of your dangling body parts, even that creeped me out. :)
We had a private plunge pool, and the water was HEATED to a very pleasant temperature. So even when the air temperature was 15C, you could take a wonderful dip in the pool after a morning drive in the bush.
Outdoor chairs and a table to enjoy your tea or to sit and read a book.
And Villa 1 and Villa 2 (another two-bedroom villa) shared a huge living, dining and deck in between. But our neighbors never used this area so we had it all to ourselves in the brief periods we weren't doing something else.
The lanai sitting area…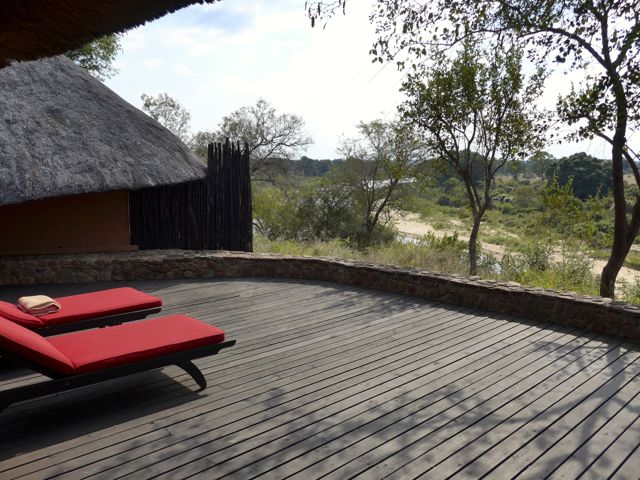 …the expansive deck and view of the river…
…and the dining room. Every morning, instead of heading to the main lodge on foot, our porter and the butler set up a light breakfast buffet in our dining room so that we could grab a bite to eat and a hot tea then we were escorted to our Land Rover just meters away and went straight onto our morning game drive. So civilized.
But as I said, the accommodations were but a fraction of the experience. Mrs. MM and I agree that this was one of the best hotels we have EVER stayed in. Seriously. I know several family members who would just cocoon themselves in this suite and not emerge for three days straight, a steady parade of butlers bringing food and wine… :)
For more information on Singita, visit their wonderful website, here.
And for those readers unfamiliar with Marketman, let me make it crystal clear that this post and the posts that follow on our trip to South Africa are in NO WAY SPONSORED posts. Mrs. MM and I paid for everything out of our own pockets, we planned our itinerary with the help of Asia to Africa Safaris (more on them later), booked our commercial SQ flights and paid for them, and I don't think any of the people we met or hotels we stayed in had any clue that I even had a food blog at all. So everything you will read here is our personal unbiased opinion of the experiences we had.